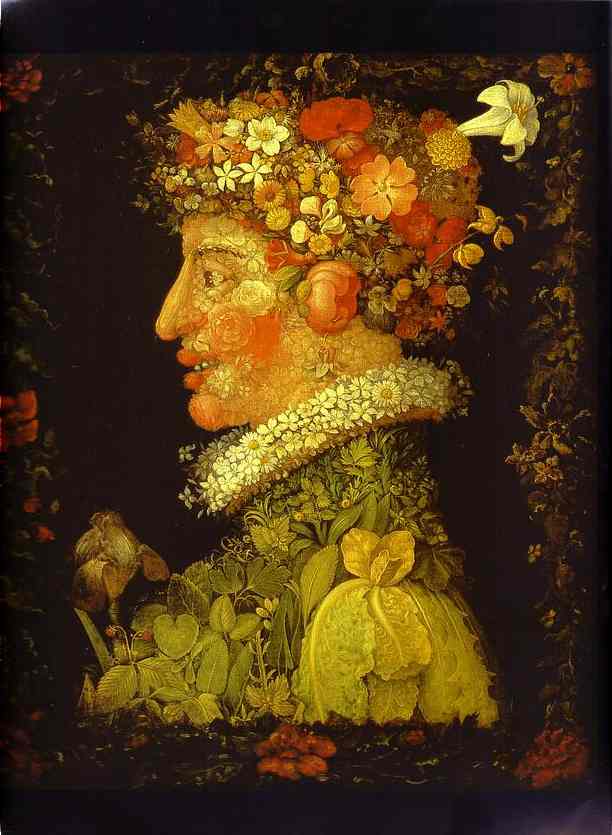 Spring.
1573. Oil on canvas. Louvre, Paris, France.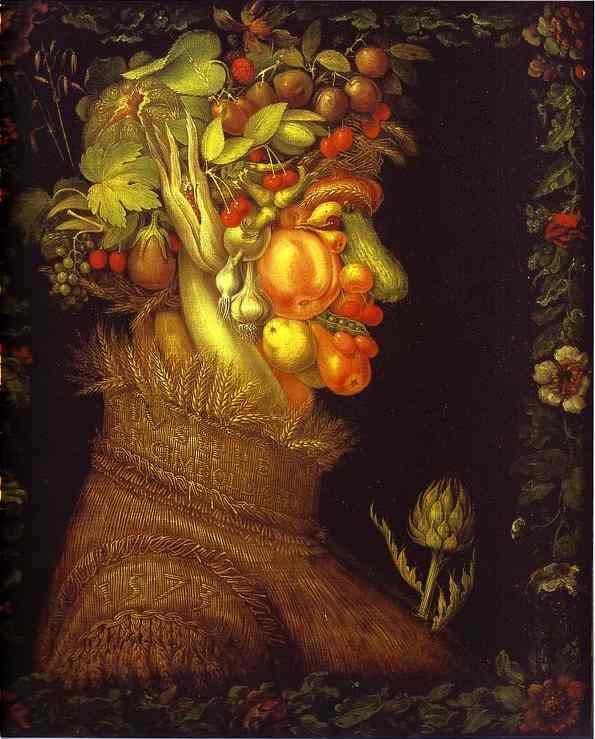 Summer.
1573. Oil on canvas. Louvre, Paris, France.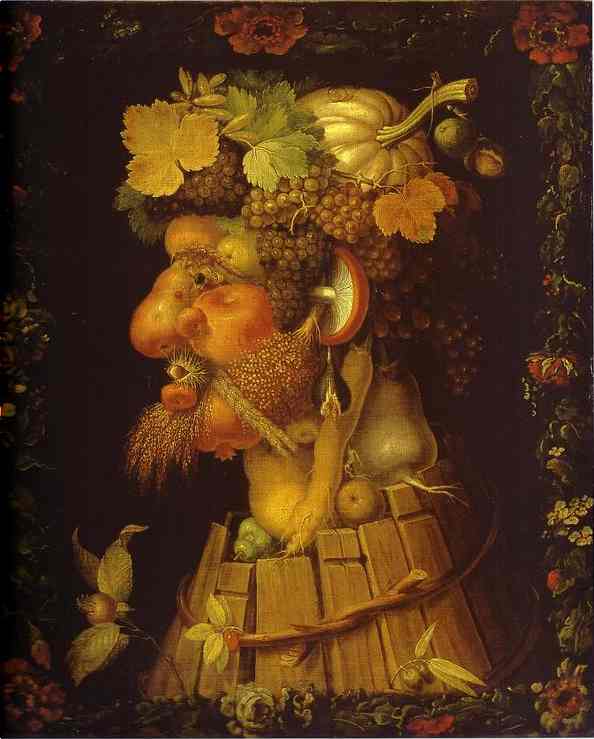 Autumn.
1573. Oil on canvas. Louvre, Paris, France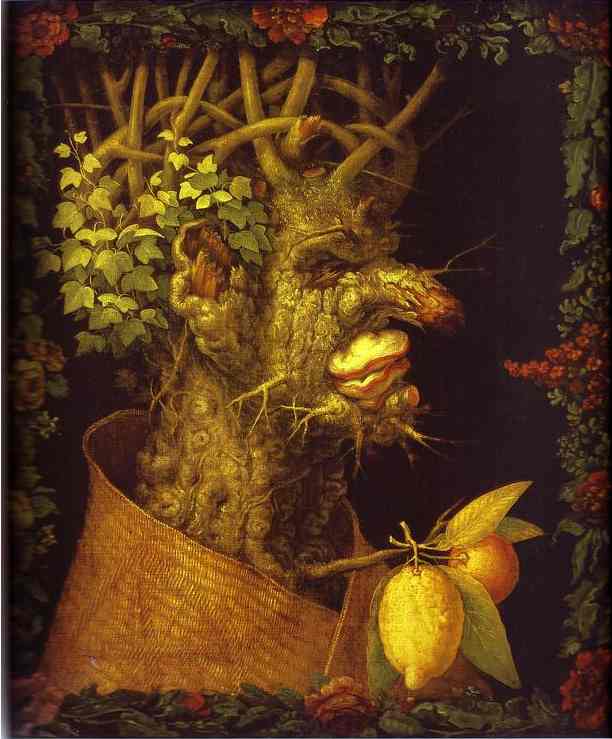 Winter.
1573. Oil on canvas. Louvre, Paris, France.
Giuseppe Arcimboldo at Artprice. To look at auction records, find Arcimboldo's works in upcoming auctions, check price levels and indexes for his works, read his biography and view his signature, access the Artprice database.
Although Giuseppe Arcimboldo was extremely famous during his lifetime, he was soon forgotten after his death. We do not know why people ever lost interest in his art. Perhaps he was misunderstood by the generations that followed. The interest to his abstruse and fantastic pictures, of which we only have a very few originals, nowadays, revived only at the end of the 19th century. Apart from the fantastic pictures, he probably painted quite a few more traditional ones. But many of these, too, seem to have disappeared.
Giuseppe Arcimboldo was born into the family of a painter for the Milan Cathedral in 1527. The other variants of the name: Josephus, Joseph or Josepho Arcimboldi or Arcimboldus. It is uncertain which version is the correct one, because the painter used all these variants to sign his works. Many art historians agreed to use the variant of Giuseppe Arcimboldo.
In 1549, at the age of 22, Giuseppe Arcimboldo made his debut as an artist. The records of the Milan Cathedral tell us that, together with his father, he was paid for designing several stained glass windows. He went on to work for the Milan Cathedral after his father's death, until 1558. During this period he designed stained glass windows for the Milan Cathedral and several gobelin tapestries for the Como Cathedral.
In 1562, Giuseppe Arcimboldo became a court painter of Emperor Ferdinand I (Habsburg) and left for Vienna, then moved to Prague. During the 2 years, when Arcimboldo served Ferdinand I, he painted several portraits of the Imperial family as well as the first series of his Four Seasons. The artistic concept of these pictures of 1563 was unique and laid the foundation of Arcimboldo's success as a painter. The documents of the time bear witness to the fact that monarchs and his contemporaries in general were quite enthusiastic about his art.
When Ferdinand I died, in 1564, and was succeeded by Emperor Maximilian II (1527-1576), Arcimboldo continued as his court artist. There is little doubt that a large number of pictures were painted between 1564 and 1576, but only very few of them are known to us: Water and Fire (1566), The Lawyer (1566), The Cook (1570) another series of the Four Seasons in 1572, two series of Four Seasons in 1573, including Spring (1573), Summer (1573), Autumn (1573), Winter (1573). In 1575 Arcimboldo made several paintings for the private chambers of the Emperor. We do not know of any other works. But apart from painting, Arcimboldo also had other duties at the Imperial court. As he was a man of many talents he also served the Emperor as an architect, stage designer, engineer, water engineer and art specialist. Because of his extensive knowledge he was able to exert his influence on Maximilian II.
Like his 2 predecessors, Emperor Rudolph II (1552-1612) also took Arcimboldo into his service. The eleven years, which the artist spent with Rudolph II, were probably the peak of his career. The Emperor was extremely fond of Arcimboldo and showed great appreciation for him. All we know about Arcimboldo's activities as an artist at the Imperial court is that he painted The Four Seasons twice in 1577, that he dedicated a red leather folio containing 150 pen-and-ink drawings to the Emperor in 1585, and that he organized a number of festive processions and tournaments in the same year. We have no knowledge of any further pictures, which he might have painted, at the court in Prague after 1585.
In 1587, after 11 years of service and a number of urgent requests, Arcimboldo finally received permission from Rudolph II to return to his native Milan. And so he went back in the same year, but honored the Emperor's request to continue working for him even, though he was no longer in his service. In 1591 he painted two of his most famous pictures, Flora (c.1591) and Vertumnus (1590-1591), which he sent to Prague. Vertumnus was particularly appreciated by everyone, especially by Rudolph himself. It is a head-and-shoulder portrait of the Emperor, showing him in the form of Vertumnus, the ancient Roman god of vegetation and transformation. Rudolph consists entirely of magnificent fruits, flowers and vegetables. Delighted with these paintings, Rudolph II awarded Arcimboldo one of his highest orders in 1592. Next year on 11 July 1593 the painter died.

Bibliography:
Arcimboldo by Federico Zeri. NDE Publishing, 2001.
Giuseppe Arcimboldo 1527-1593 (Basic Art Series) by Giuseppe Arcimboldi, Werner Kriegeskorte. TASCHEN America Llc, 1994.
The Portrait of Eccentricity: Arcimboldo and the Mannerist Grotesque by Giancarlo Maiorino. Pennsylvania State Univ Pr , 1991.
Hello, Fruit Face!: The Paintings of Guiseppe Arcimboldo (Adventures in Art) by Claudia Strand. Prestel, 1999.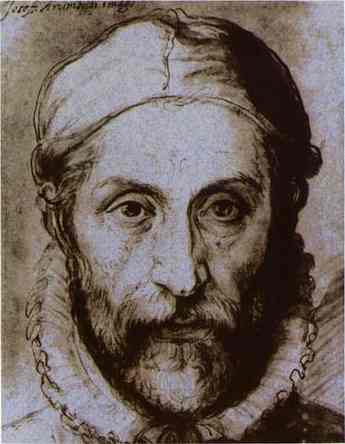 Giuseppe Arcimboldo.
Self-Portrait.
c.1575. Blue pen-and-wash drawing. Narodni Gallery, Prague, Chechia.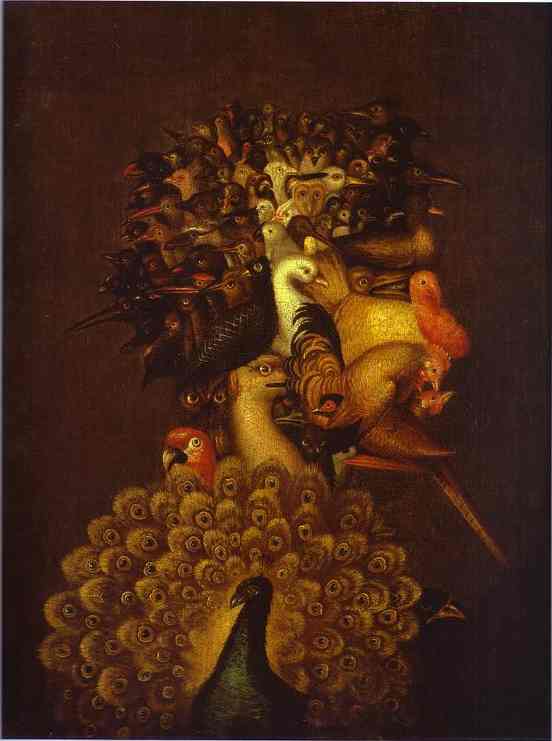 Air.
Oil on canvas. Private collection, Basle, Switzerland.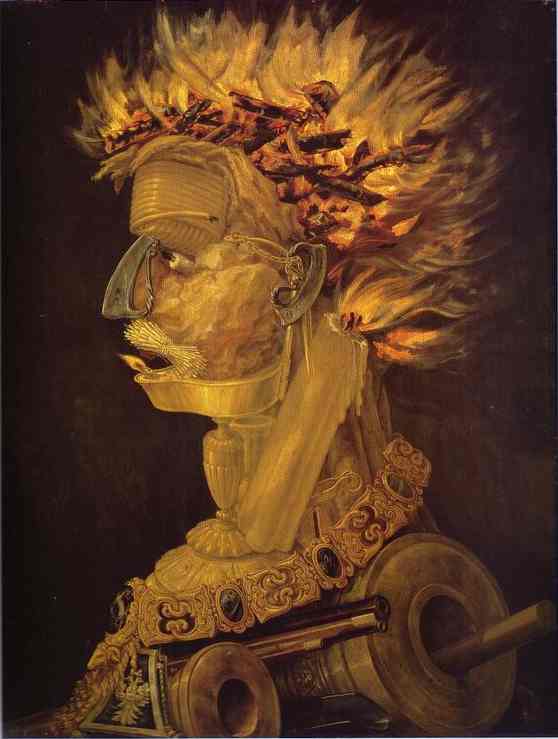 Fire.
1566. Oil on wood. Kunsthistorisches Museum, Vienna, Austria.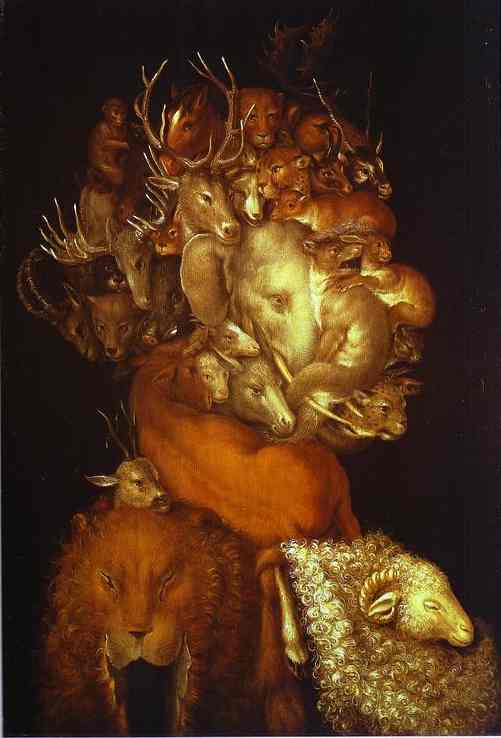 Earth.
c.1570. Oil on wood. Private collection, Vienna, Austria.
Water.
1566. Oil on wood. Kunsthistorisches Museum, Vienna, Austria.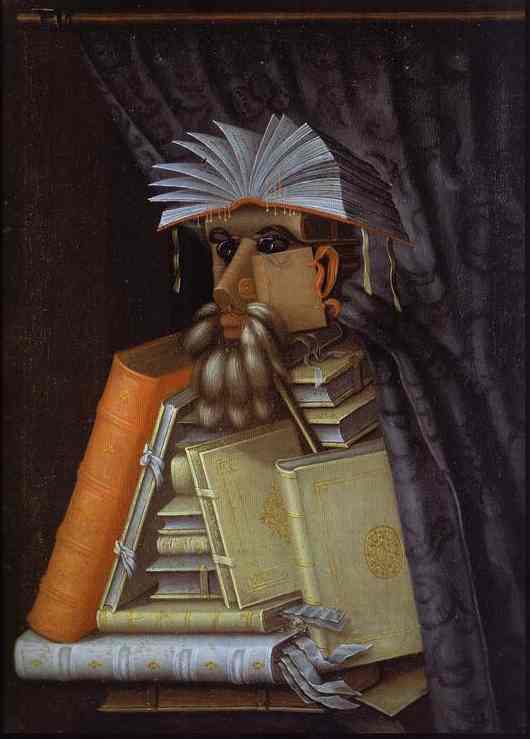 The Librarian.
c.1566. Oil on canvas. Skoklosters Slott, Balsta, Sweden.
Vertumnus.
1590-1591. Oil on wood. Skoklosters Slott, Balsta, Sweden
루돌프2세의 초상. 예술가를 후원하여 프라하를 문화도시로 만든 군주. 이 독특한 초상화를 보고 슬기로운 군주덕에 만물이 번성하고 나라가 풍요롭다는 의미로 해석.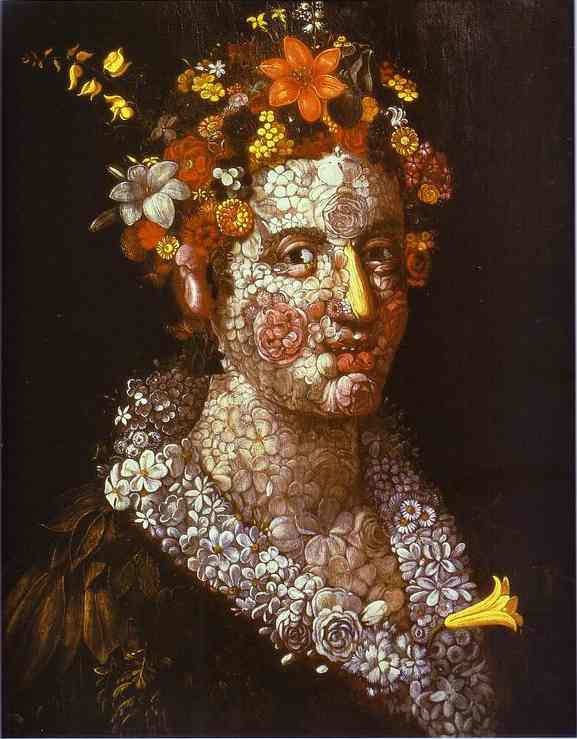 Flora.
c.1591. Oil on wood. Private collection, Paris, France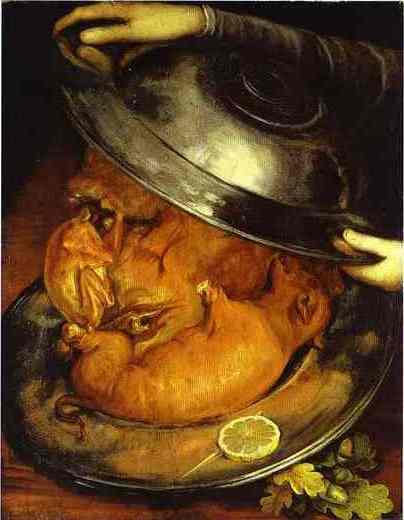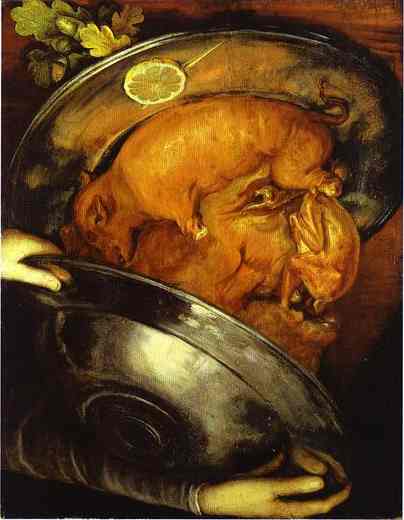 The Cook,
a visual pun which can be turned upside down. c.1570. Oil on canvas. Private collection, Stokholm, Sweden.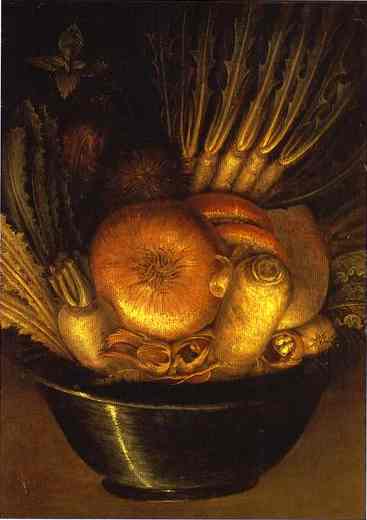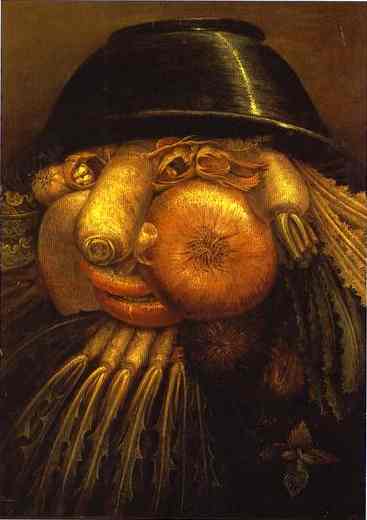 The Vegetable Gardener
, a visual pun which can be turned upside down. c.1590. Oil on wood. Museo Civico Ala Ponzone, Cremona, Italy.