Toulouse-Lautrec, Henri de (1864-1901). Many immortal painters lived and worked in Paris during the late 19th century. They included Degas, Cézanne, Gauguin, Van Gogh, Seurat, Renoir, and Toulouse-Lautrec. Toulouse-Lautrec observed and captured in his art the Parisian nightlife of the period.
Henri de Toulouse-Lautrec was born on Nov. 24, 1864, in Albi, France. He was an aristocrat, the son and heir of Comte Alphonse-Charles de Toulouse and last in line of a family that dated back a thousand years. Henri's father was rich, handsome, and eccentric. His mother was overly devoted to her only living child. Henri was weak and often sick. By the time he was 10 he had begun to draw and paint.
At 12 young Toulouse-Lautrec broke his left leg and at 14 his right leg. The bones failed to heal properly, and his legs stopped growing. He reached young adulthood with a body trunk of normal size but with abnormally short legs. He was only 1.5 meters tall.
Deprived of the kind of life that a normal body would have permitted, Toulouse-Lautrec lived wholly for his art. He stayed in the Montmartre section of Paris, the center of the cabaret entertainment and bohemian life that he loved to paint. Circuses, dance halls and nightclubs, racetracks--all these spectacles were set down on canvas or made into lithographs.
Toulouse-Lautrec was very much a part of all this activity. He would sit at a crowded nightclub table, laughing and drinking, and at the same time he would make swift sketches. The next morning in his studio he would expand the sketches into bright-colored paintings.
In order to become a part of the Montmartre life--as well as to protect himself against the crowd's ridicule of his appearance--Toulouse-Lautrec began to drink heavily. In the 1890s the drinking started to affect his health. He was confined to a sanatorium and to his mother's care at home, but he could not stay away from alcohol. Toulouse-Lautrec died on Sept. 9, 1901, at the family chateau of Malrome. Since then his paintings and posters--particularly the Moulin Rouge group--have been in great demand and bring high prices at auctions and art sales.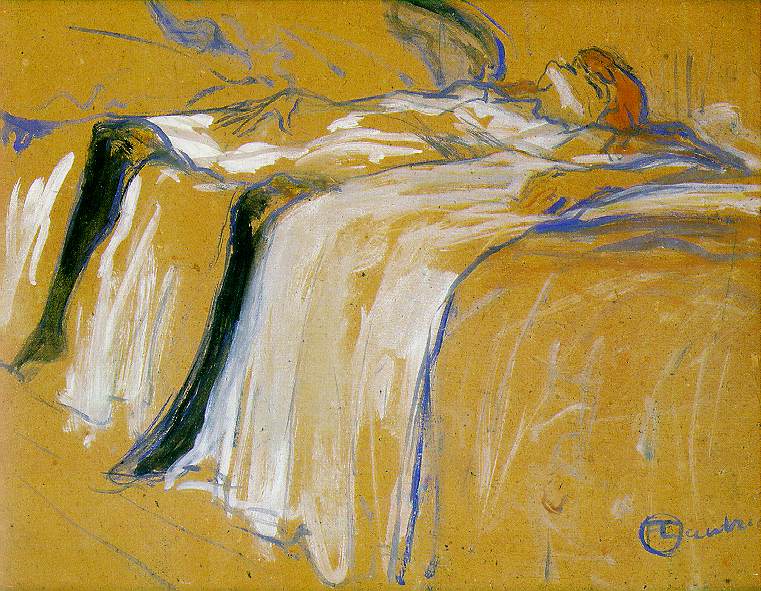 Alone
1896; Oil on board, 31 x 40 cm; Musée D'Orsay, Paris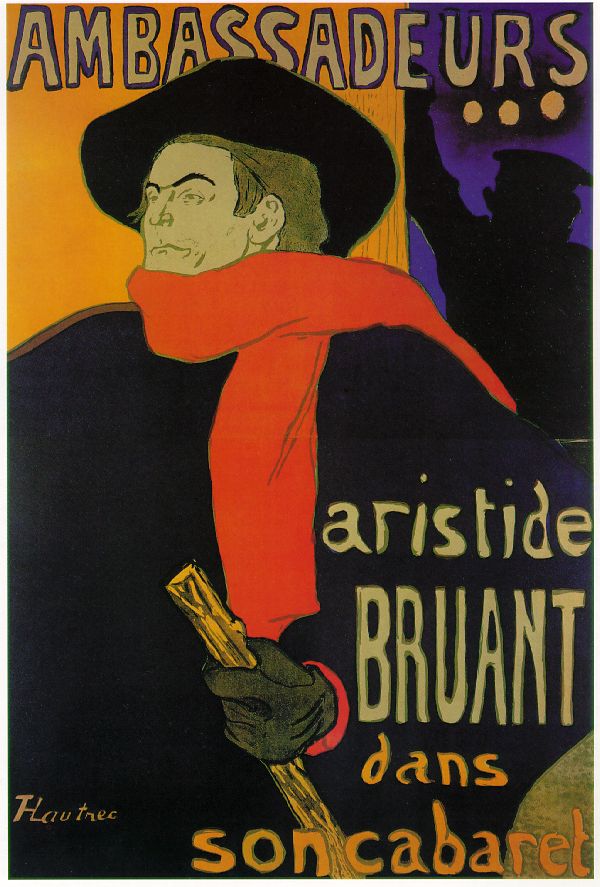 Ambassadeurs: Aristide Bruant
1892; Lithograph in six colors (poster), 141 x 98 cm; Private collection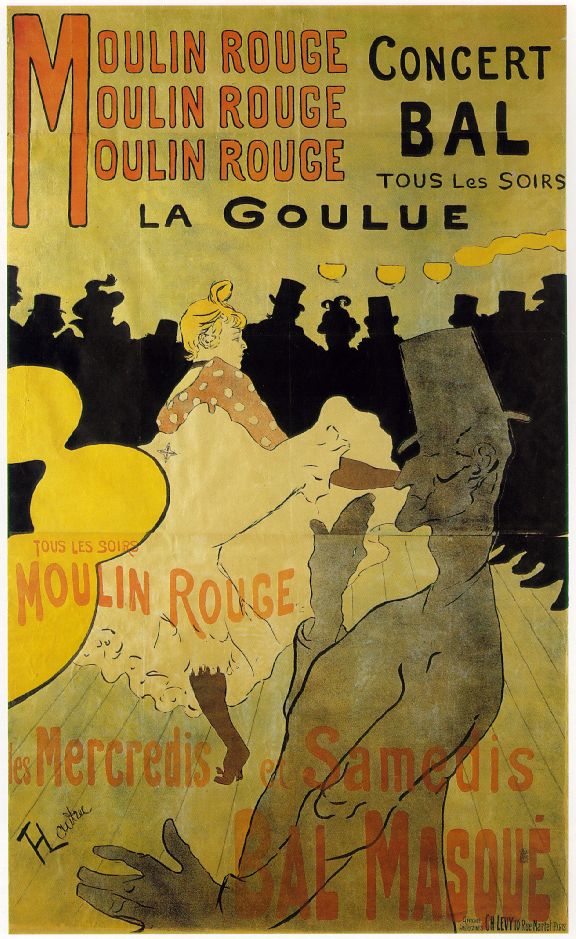 Moulin Rouge: La Goulue
1891; Lithograph in four colors (poster), 191 x 117 cm; Private collection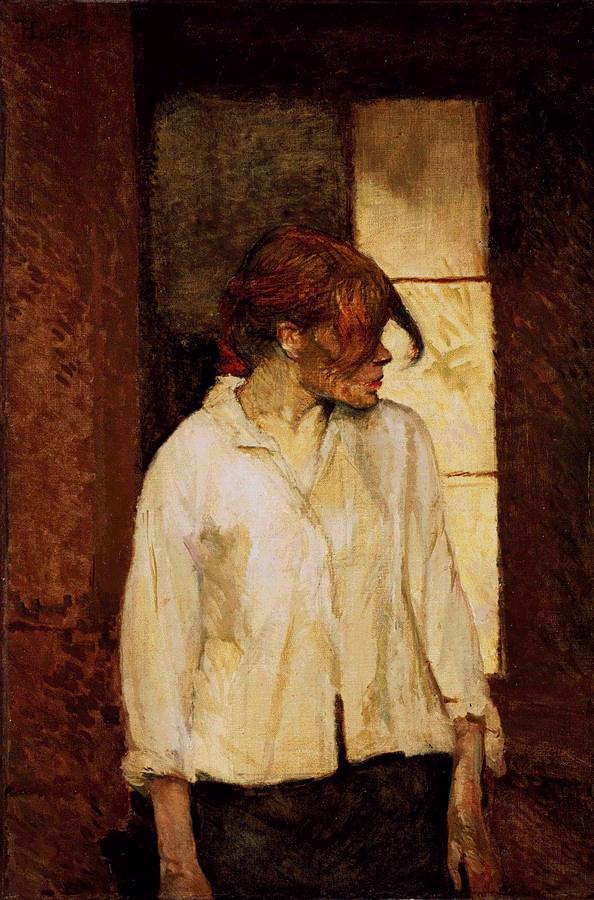 Rosa La Rouge - À Montrouge
1886-87; Oil on canvas, 72.3 x 49 cm; Barnes Foundation, Merion, Pennsylvania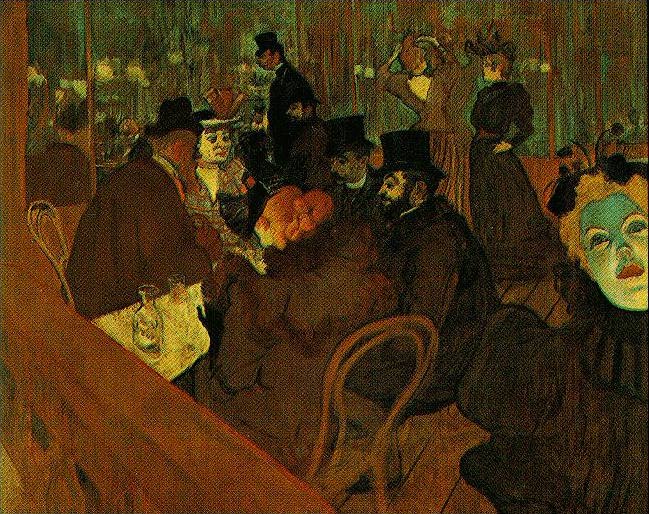 At the Moulin Rouge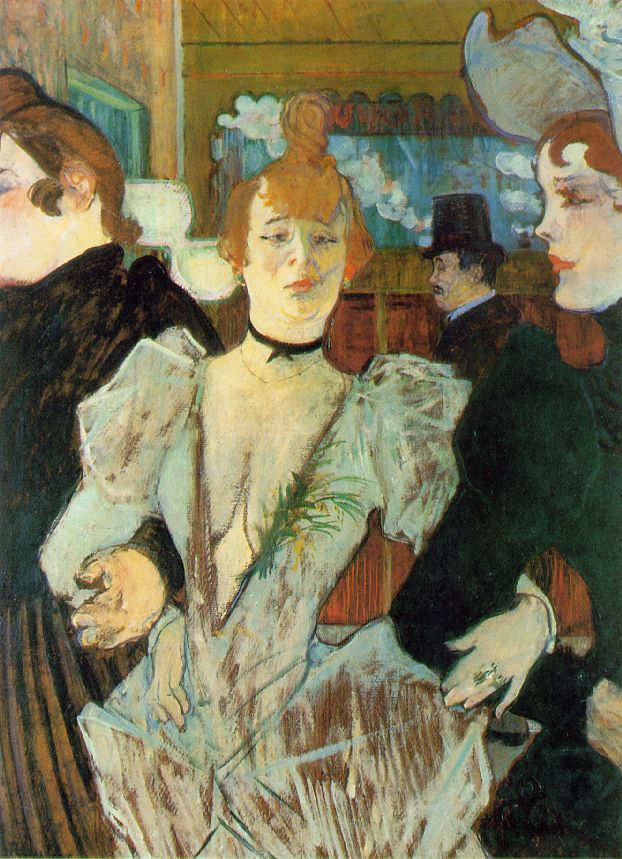 La Goulue Arriving at the Moulin Rouge with Two Women
1892; Oil on cardboard, 79.4 x 59 cm; The Museum of Modern Art, New York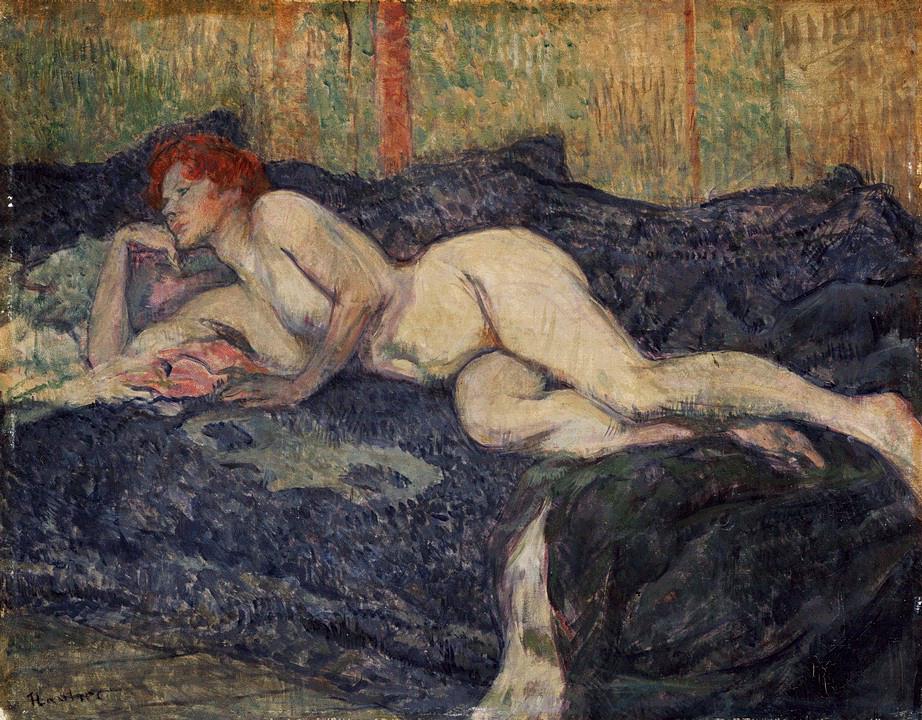 Reclining Nude
1897; Oil on wood panel, 12 x 15 1/2 in; Barnes Foundation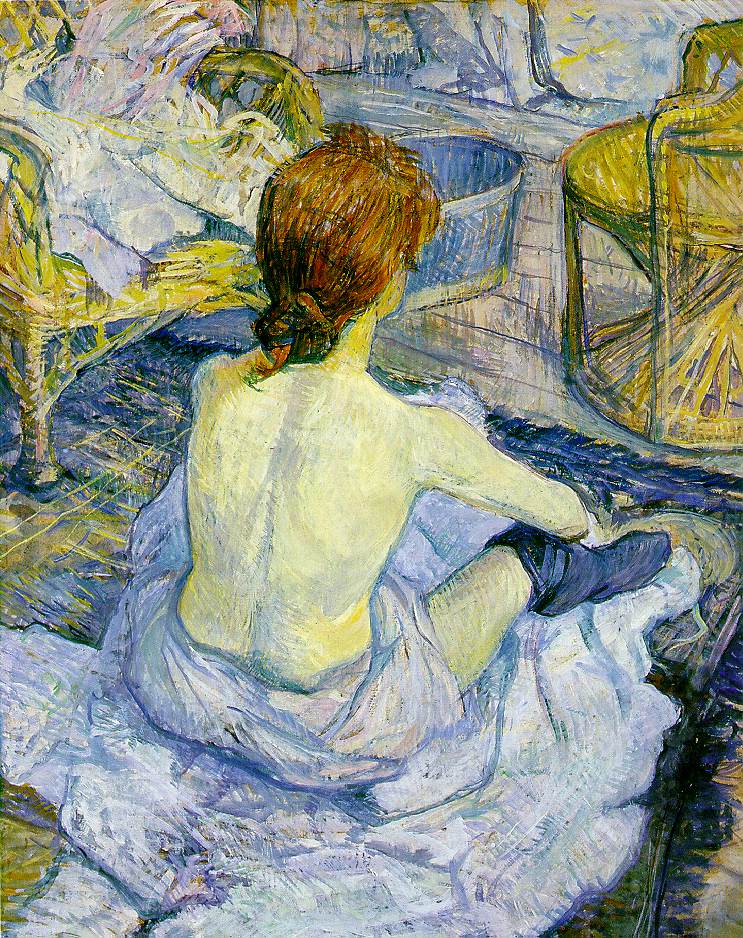 The Toilette
1896; 67 x 54 cm; Musée D'Orsay, Paris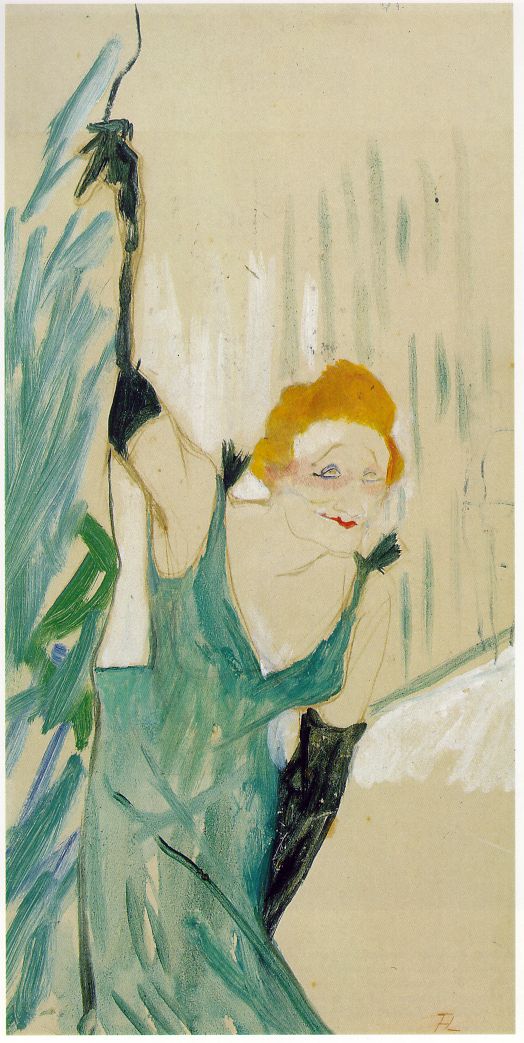 Yvette Guilbert Greeting the Audience
1894; Oil over reproduction on photographic paper, 48 x 28 cm; Musée Toulouse-Lautrec, Albi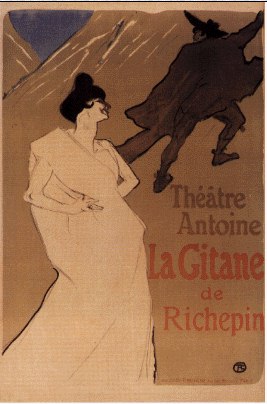 La Gitane (The Gypsy)
---
1900; Lithograph in four colors, 160 x 65 cm
The poster La Gitane is among Henri de Toulouse-lautrec's most evocative works, as well as one of the rarest. It advertises a never-published play, now lost; its plot can be reconstructed from contemporary reviews that suggest a story line similar to that of Bizet's Carmen, with a sinister and melodramatic twist.
The heroine, Rita, is married to her cousin but betrays him with any man who catches her fancy. Among her casual conquests, the Count de Moreuse refuses to be discarded. He abandons his family and follows Rita to Granada, where, while Rita dances, husband and lover fight and die. The heartless Rita is gleeful and vindictive, as Toulouse-Lautrec shows; the play ends as she steps over the fallen men to flee, laughing with her brother-in-law.
Toulouse-Lautrec's composition captures the sinister interaction in bold silhouettes suggesting harsh theatrical lighting as well as back-alley darkness. This compression of detail is characteristic of Lautrec's work. He is credited with causing the reassessment of the poster as an art form. Posters were made and distributed in Paris from the seventeenth century, but only in the nineteenth was this means of advertising widely practiced by painters. Toulouse-Lautrec's posters are notable for their sophisticated and innovative color. His stark compositions frequently emphasize a single forground figure, a signature of his work. The flat color areas and abstracted shapes strongly reflect influences Toulouse-Lautrec absorbed from Japanese prints he and other contemporary artists studied.