http://www.jennyholzer.com

* jenny holzer
was born 1950 in gallipolis, ohio, usa.
she received a BFA in painting and printmaking from ohio
university in 1972 and an MFA in painting from the RISD /
rhode island school of design in 1975.
holzer began to use text in her work while attending
ohio university. an abstract painter while at RISD,
she shifted to public projects and works that were
'sublime and impressive'.
jenny holzer moved to new york city in 1976 and
enrolled in the whitney museum independent study program,
there she created the first 'truisms', in a first stage as a
series of one-liners on posters pasted anonymously around
the city. later she did installations with electronic LED displays
that are attentive to architecture, monuments and memorials;
and since 1996, large-scale xenon projections of text
on buildings and landscape. she has realized these xenon
projections in florence, rome, venice, rio de janeiro, buenos aires,
oslo, paris, bordeaux, berlin, washington, new york city and miami.
holzer received the leone d'oro for her american pavilion
installation at the 1990 venice biennale, was the recipient of the
2002 kaiserring from the city of goslar, germany,
and was awarded the public art network annual award by
americans for the arts in 2004.
she lives and works in hoosick, new york.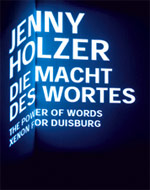 the book
jenny holzer
'die macht des wortes / the power of words'
xenon for duisburg.
33 images, text german / english, with dvd video
available in march 2005
published by hatje cantz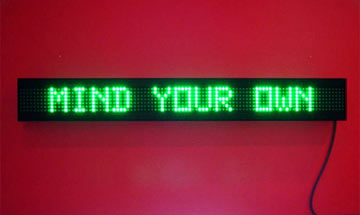 LED 1
© jenny holzer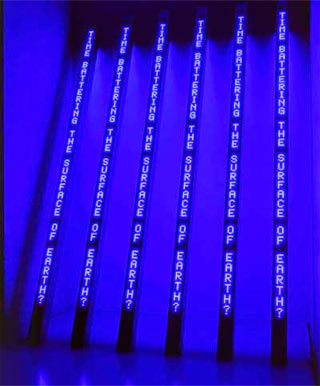 blue tilt', 2004
© jenny holzer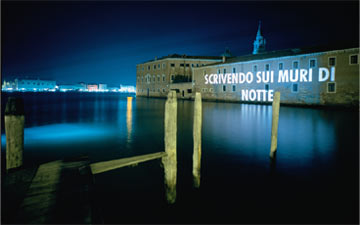 xenon in venice (writing on walls by night) , 2003
© jenny holzer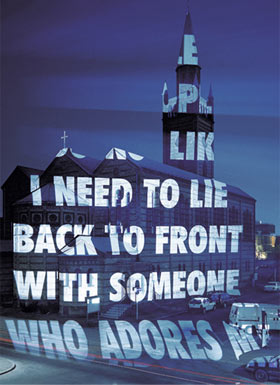 xenon on berlin's matthäikirche, 2001
© jenny holzer