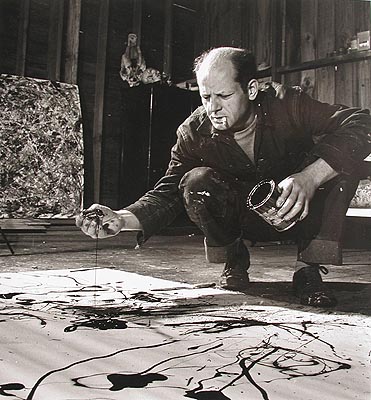 Action painting
Pollock was the first ``all-over'' painter, pouring paint rather than using brushes and a palette, and abandoning all conventions of a central motif. He danced in semi-ecstasy over canvases spread across the floor, lost in his patternings, dripping and dribbling with total control. He said: ``The painting has a life of its own. I try to let it come through.'' He painted no image, just ``action'', though ``action painting'' seems an inadequate term for the finished result of his creative process. Lavender Mist is 3 m long (nearly 10 ft), a vast expanse on a heroic scale. It is alive with colored scribble, spattered lines moving this way and that, now thickening, now trailing off to a slender skein. The eye is kept continually eager, not allowed to rest on any particular area. Pollock has put his hands into paint and placed them at the top right-- an instinctive gesture eerily reminiscent of cave painters who did the same. The overall tone is a pale lavender, maide airy and active. At the time Pollock was heiled as the greatest American painter, but there are already those who feel his work is not holding up in every respect.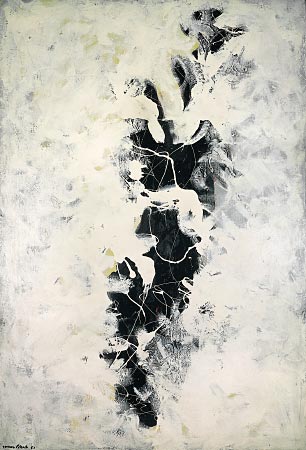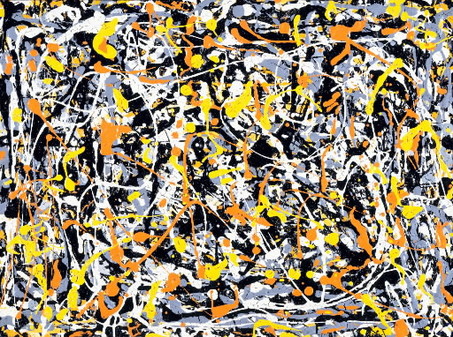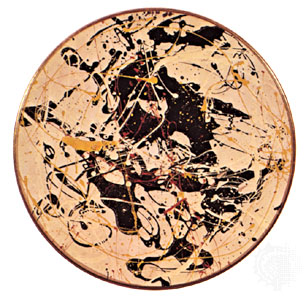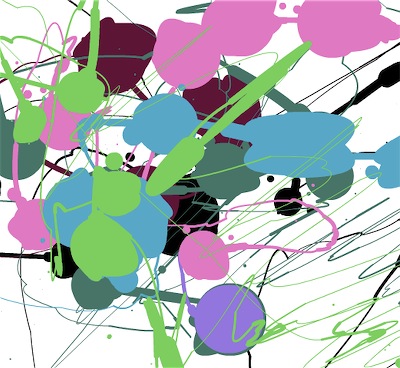 1950 (350 Kb); Oil on canvas, Oil, enamel, and aluminum on canvas; 221 x 300 cm (7 ft 3 in x 9 ft 10 in); National Gallery of Art, Washington, D.C.
Timeline: Abstract Expressionism
On the floor I am more at ease, I feel nearer, more a part of the painting, since this way I can walk around in it, work from the four sides and be literally `in' the painting.
-- Jackson Pollock, 1947.
Pollock, Jackson (1912-56). American painter, the commanding figure of the Abstract Expressionist movement.
He began to study painting in 1929 at the Art Students' League, New York, under the Regionalist painter Thomas Hart Benton. During the 1930s he worked in the manner of the Regionalists, being influenced also by the Mexican muralist painters (Orozco, Rivera, Siqueiros) and by certain aspects of Surrealism. From 1938 to 1942 he worked for the Federal Art Project. By the mid 1940s he was painting in a completely abstract manner, and the `drip and splash' style for which he is best known emerged with some abruptness in 1947. Instead of using the traditional easel he affixed his canvas to the floor or the wall and poured and dripped his paint from a can; instead of using brushes he manipulated it with `sticks, trowels or knives' (to use his own words), sometimes obtaining a heavy impasto by an admixture of `sand, broken glass or other foreign matter'. This manner of Action painting had in common with Surrealist theories of automatism that it was supposed by artists and critics alike to result in a direct expression or revelation of the unconscious moods of the artist.
Pollock's name is also associated with the introduction of the All-over style of painting which avoids any points of emphasis or identifiable parts within the whole canvas and therefore abandons the traditional idea of composition in terms of relations among parts. The design of his painting had no relation to the shape or size of the canvas -- indeed in the finished work the canvas was sometimes docked or trimmed to suit the image. All these characteristics were important for the new American painting which matured in the late 1940s and early 1950s.
During the 1950s Pollock continued to produce figurative or quasi-figurative black and white works and delicately modulated paintings in rich impasto as well as the paintings in the new all-over style. He was strongly supported by advanced critics, but was also subject to much abuse and sarcasm as the leader of a still little comprehended style; in 1956 Time magazine called him `Jack the Dripper'.
By the 1960s, however, he was generally recognized as the most important figure in the most important movement of this century in American painting, but a movement from which artists were already in reaction (Post-Painterly Abstraction). His unhappy personal life (he was an alcoholic) and his premature death in a car crash contributed to his legendary status. In 1944 Pollock married Lee Krasner (1911-84), who was an Abstract Expressionist painter of some distinction, although it was only after her husband's death that she received serious critical recognition.
Breaking the ice
It was Jackson Pollock who blazed an astonishing trail for other Abstract Expressionist painters to follow. De Kooning said, ``He broke the ice'', an enigmatic phrase suggesting that Pollock showed what art could become with his 1947 drip paintings.
It has been suggested that Pollock was influenced by Native American sand paintings, made by trickling thin lines of colored sand onto a horizontal surface. It was not until 1947 that Pollock began his ``action'' paintings, influenced by Surrealist ideas of ``psychic automatism'' (direct expression of the unconscious). Pollock would fix his canvas to the floor and drip paint from a can using a variety of objects to manipulate the paint.
The Moon-Woman Cuts the Circle (1943; 109.5 x 104 cm (43 x 41 in)) is an early Pollock, but it shows the passionate intensity with which he pursued his personal vision. This painting is based on a North American Indian myth. It connects the moon with the feminine and shows the creative, slashing power of the female psyche. It is not easy to say what we are actually looking at: a face rises before us, vibrant with power, though perhaps the image does not benefit from labored explanations. If we can respond to this art at a fairly primitive level, then we can also respond to a great abstract work such as Lavender Mist. If we cannot, at least we can appreciate the fusion of colors and the Expressionist feeling of urgency that is communicated. Moon-Woman may be a feathered harridan or a great abstract pattern; the point is that it works on both levels.
Full Fathom Five
1947 (210 Kb); Oil on canvas with nails, tacks, buttons, coins, cigarettes, etc, 129 x 76.5 cm (50 7/8 x 30 1/8 in)
Full Fathom Five is one of the earliest masterpieces of Pollock's drip technique. The actual origins and initial development of this technique have never been fully explained, except by reading back from fuller photographic evidence produced about 1950, two or three years after this work was painted. Like other practical breakthroughs in twentieth-century painting, 'creative accident' seems likely to have played an important part, as Pollock probed and tested methods of paint application which promote the continuousness of line rather than the broken lines inevitable in the constant reloadings and readjustments of conventional brushwork. His solution was to pour from a can of domestic paint along a stick resting inside the container, so that a constant 'beam' of pigment came into contact with the canvas (which he left unstretched on the studio floor). The character of the line was determined by certain physical and material variables that could be combined in almost infinite permutations: the viscosity of the paint (controlled by thinning and dilution); the angle and hence speed of the pouring; and the dynamics of Pollock's bodily gestures, his sweep and rhythm, especially in the wrist, arm and shoulder. 'Like a seismograph', noted writer Wemer Haftmann 'the painting recorded the energies and states of the man who drew it.' In addition Pollock would flick, splatter and dab subsidiary colors on to the dominant linear configuration.
In Full Fathom Five the initial impression of a vibrant sea-green hue is relieved on inspection by the variety of shades and inflections which combine to produce an idea of water and of depth. A strenuous black calligraphy loops and curls round the volume of green; mottled and patchy areas of white interact with these, while the green is 'seasoned' with amounts of other colors.
Pollock has embedded nails, tacks, buttons, keys, coins, a torn cigarette, matches, and paint-tube tops into the surface - witnesses of the accidental nature of the 'painting' process and of the legitimacy of the trouser-pocket paraphemalia - as three-dimensional textural agents to amplify the signifying potential of the image. These alien materials, however, are subordinate to the overall design. They are, interestingly, almost invisible in normal reproductions of the painting; suffocated by the overwhelming presence of paint their function is analogous to the smears and touches of color, providing resistance and difference in the optical pattern.